In celebration of Black Friday / Cyber Monday, everything in my shop is 50% off until Tuesday December 3rd, 11:59pm GMT. The discount code BFCM2019 will automatically be applied at checkout. So if you've been waiting to pick up the Tweak Me v2 theme, Ultimate Book Blogger, or anything else, now is a great time!
I'd also like to introduce my new plugin, Book Database, which is also on sale today for the first time.
Some of you might remember back in 2016 when I talked about my new book review system. At the time I didn't quite know what I wanted to do with it; I didn't know if I wanted to make it publicly available or just keep it for my own personal use. Well, I finally decided to make the public publicly available!
What is Book Database?
Book Database allows you to build a personal database of books and reading logs directly on your WordPress site.
Admittedly, it does have a lot of overlap with Ultimate Book Blogger, because part of the project was, "if I was building UBB fresh, what would it look like?" However, there are some key differences.
Ultimate Book Blogger has a focus on formatting reviews.
Book Database has a focus on book & reading records.
Let me show you what I mean…
Add books to your personal library
Book Database adds a whole new admin menu just for your "Book Library". Adding a new book looks like this: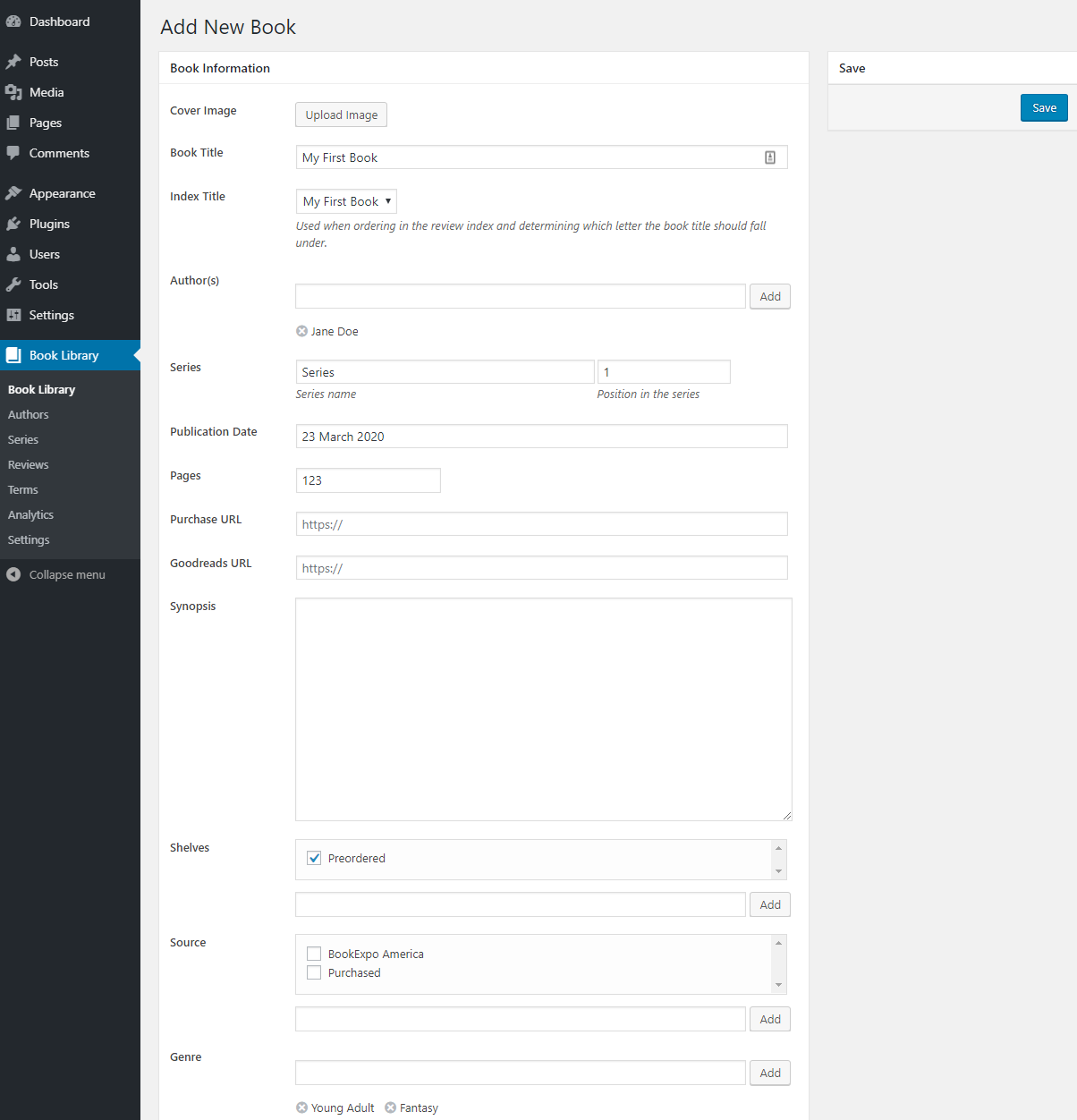 You can then manage your library, searching for books by title, author name, series name, or ISBN.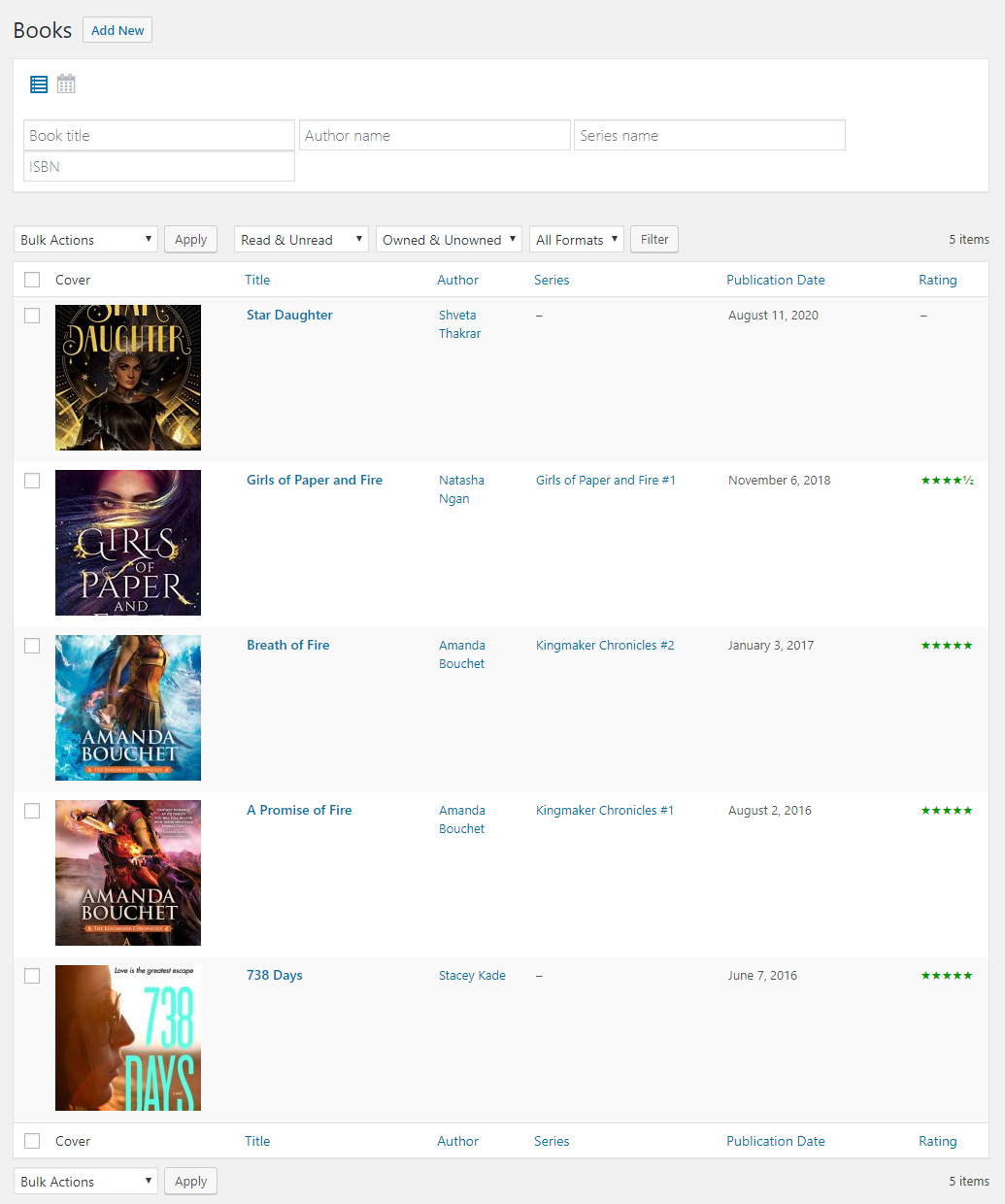 There's also an option to switch to a calendar view, which then displays books according to their release dates. This is perfect if, like me, you want to add future releases and visually keep track of when they're being published.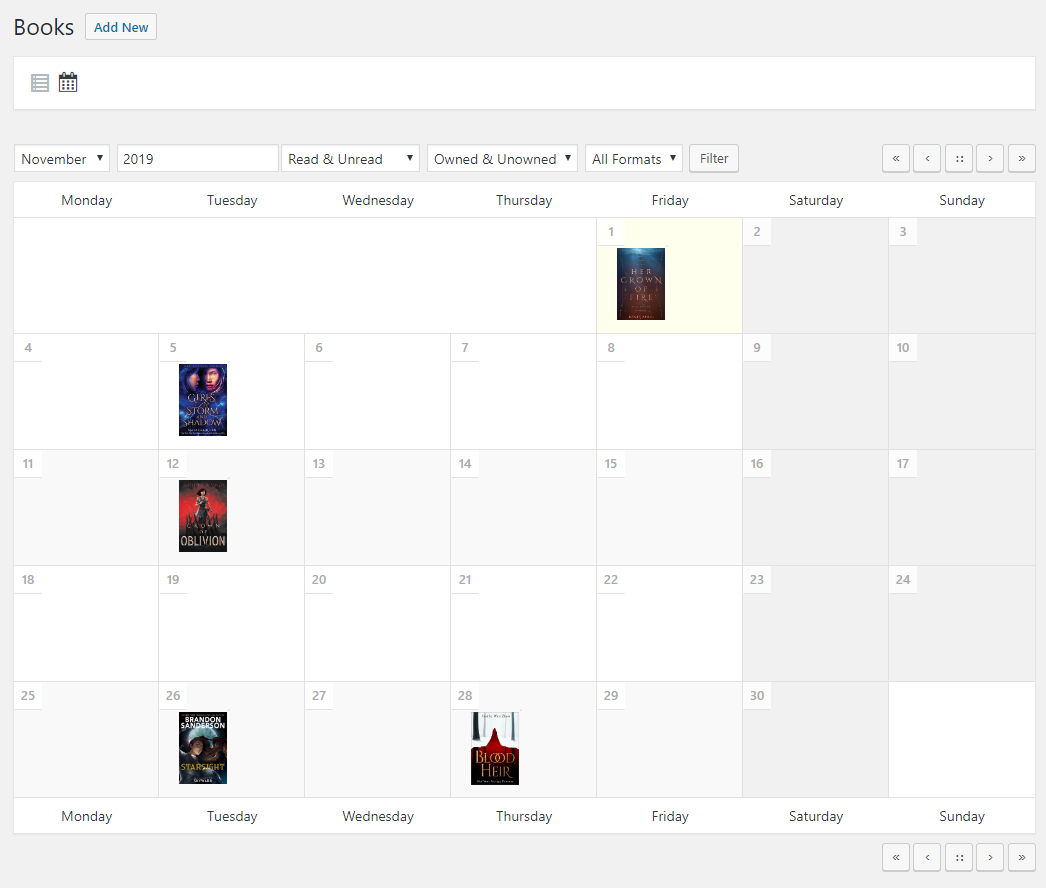 Keep track of editions you own
Each time you add (or edit) a book, you have an option to add editions that you own. You can record the ISBN, format, the date you acquired the book, where the book was obtained, and whether or not it's signed.

Read books, re-read books, & log your ratings
Each time you read a book you can enter the date you started, the date you finished, and how far through the book you got. Optionally you can also set a rating. This will help contribute towards your reading analytics (more on that in a minute!).
When I built the plugin for myself, I specifically added this feature because at the time Goodreads did not support re-reads. I wanted the ability to log my re-reads and have those count towards the total number of books I'd read that year.
Even though Goodreads now has a re-read feature, I still like keeping my own independent logs. It certainly came in handy when Goodreads decided to overwrite many of my old reading records!

Review books
After reading a book you are given the option to add a review. Reviews can either be added to blog posts on your WordPress site, or you can enter an external URL (such as a link to your Goodreads review).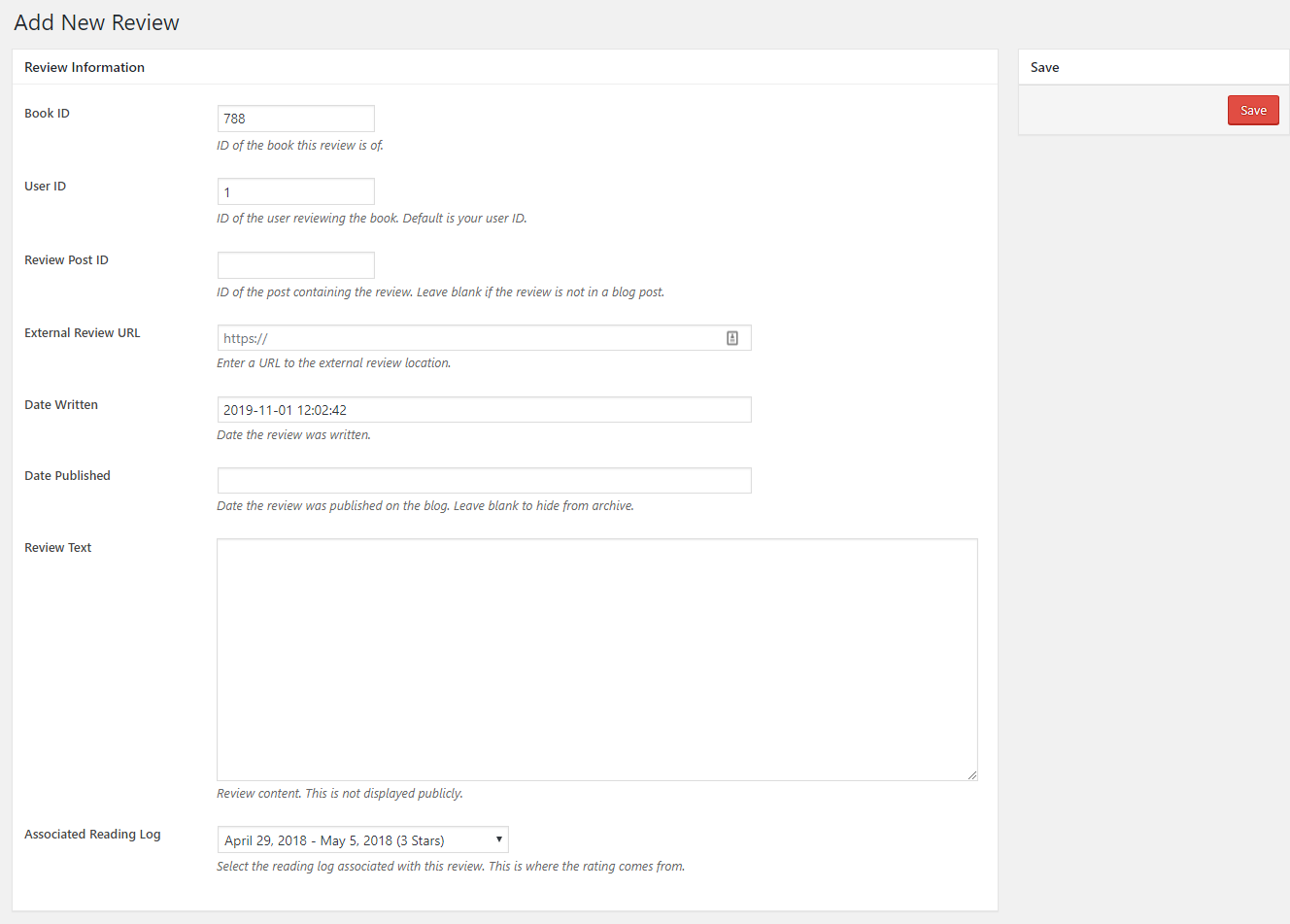 If your review is added to a blog post, you can use the [book] shortcode to display the book information.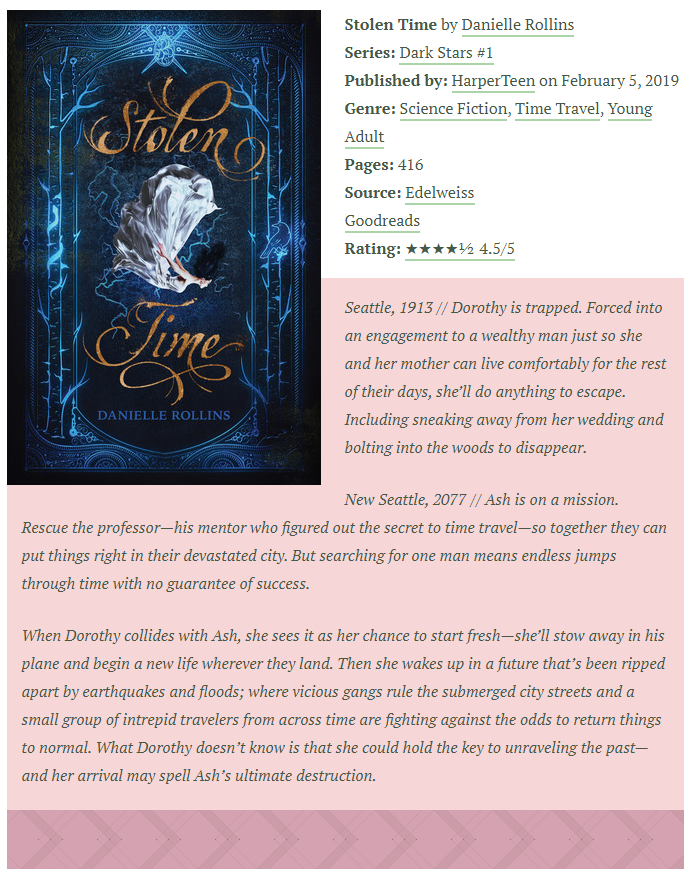 Display a searchable archive of all your book reviews
Book Database comes with a [book-reviews] shortcode, which allows you to display a searchable / filterable archive of all your book reviews on your site. Feel free to check out mine as an example.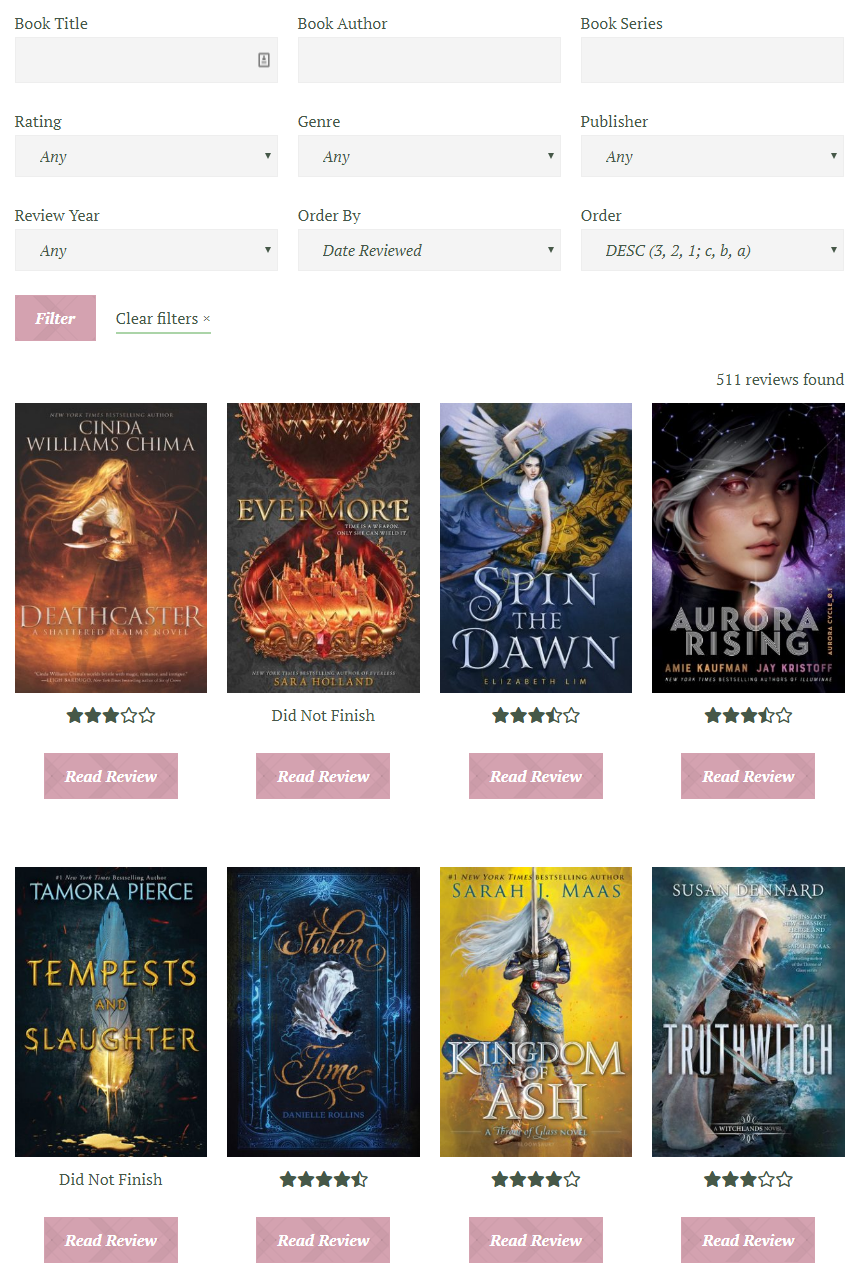 See your reading & review analytics
Now this is what Book Database is all about! As you insert reading logs and reviews, Book Database will automatically compile some pretty cool analytics for you to check out. It will tell you how many books you read, how many you didn't finish, how many were first-time reads, how many were re-reads, how many pages you read, your average reading, how many standalones vs different series, and so much more!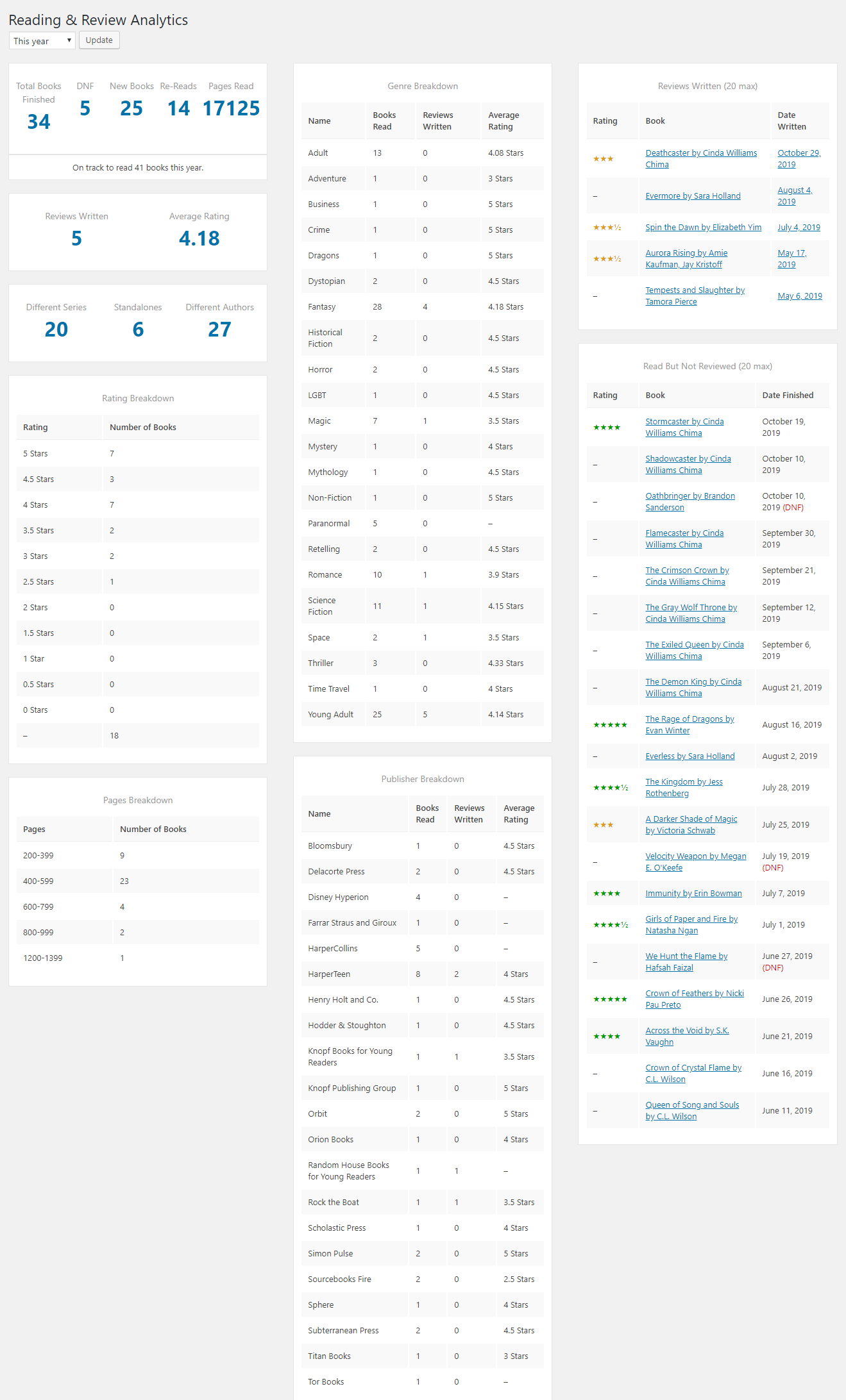 How is Book Database different from Ultimate Book Blogger?
As I said before, there is a lot of overlap. Both can be used for writing reviews and displaying book information. The differences between the two plugins mainly have to do with intention and what they're truly designed to do.
Ultimate Book Blogger is geared towards book bloggers and all the features a book blogger might possibly want on their site. It's a big plugin. It has a ton of settings and more niche options like support for book giveaways and blog tours. It's also a very public plugin—geared towards people who want to publicly publish reviews and associated content. The only way to add a book is to publish a blog post.
Book Database has a larger focus on maintaining a personal library of books and keeping track of your reading statistics. It can be beneficial to people who have no interest in publishing public content or reviews; you can simply use the plugin to track your reading progress and books you own and/or are generally interested in. You can add a book without publishing a single blog post or other public page.
If you want, you can even use both plugins on the same site.
Interested? The plugin is available today for only $17.50! (after the discount is applied at checkout)