Does anyone else worship Starbucks when they need to stay sane?
I've been making frequent trips to Starbucks in the mornings and I swear these trips help make the rest of my day so much more productive!
I take a little time to myself in the mornings. I plop down with a latte and a good book before I dive into my work for the day.
Until We Meet Again is fabulous, by the way!
Download my archives widget
I get sooo many people asking me where I get my archives widget. As some of you may know, it's something I coded myself.
Well the questions kept coming and coming, and I figured I'd give back. 😉 You can now download my archives widget from the WordPress.org repository: Expanding Archives.
Expanding Archives comes with very minimal styling. It's literally only a few lines of CSS. You can still use it and it will function perfectly, but it's also somewhat intended to be customized by designers to make it match their themes. 🙂 I just personally hate it when I download a plugin and it comes with a ton of bulky styling that doesn't match my theme and I want to get rid of it, so I aim to keep my plugins as simple and lightweight as possible.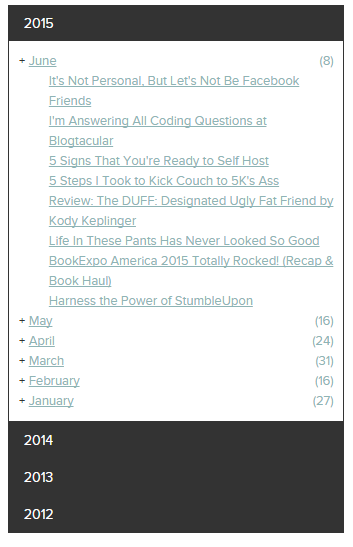 The widget on my blog.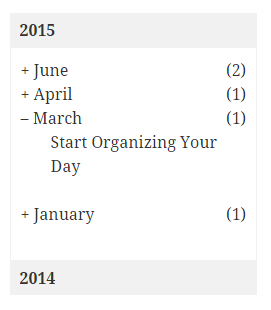 Expanding Archives widget on the Twenty Fifteen theme.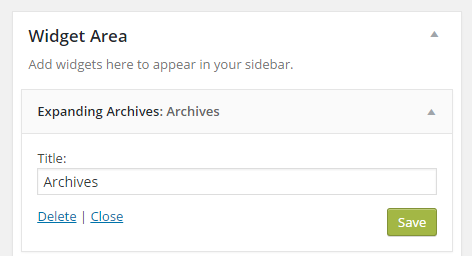 The widget settings (there are none!).
New WordPress Theme: Amanda
Amanda is a theme I've been working on for a while. It actually almost became the Nose Graze design. I love the way it looks, but in the end it just didn't feel like it was for me, you know?
But just because Amanda wasn't the theme for me doesn't mean everyone else would feel the same way! So I decided to release it as a pre-made theme, and now it's finally ready for sale. 🙂 Plus it's gorgeously integrated with the Expanding Archives widget, as you can see on the demo site.
It's so hard to keep up…
Seriously, guys, the struggle is real.
You may have noticed that my blog has fallen by the wayside a bit. I'm still posting, but a lot less.
Well, I just have a lot on my plate right now and it's SO HARD to find the time to do everything. Something's gotta give, and sadly, that's been blogging.
I've been working real hard to launch version 3 of the Ultimate Book Blogger plugin.
I've been answering A LOT of support tickets for UBBv3. (Psst, here are some tips on how to write the perfect support ticket.)
I've been re-coding all the UBB add-ons to work with v3.
I've been planning new pre-made themes with Anna Moore.
I've been doing all my usual client work (custom coding/dev).
I've been working hard on opening up a merchant account so I can process credit cards and such myself, instead of using PayPal.
I finally re-coded my documentation site to use my Nose Graze theme.
I started re-coding my client site to match my Nose Graze theme… but this is still a work in progress.
It's just crazy how many things there are to do. And every time I finish something, a new project or to-do item gets added to the list. I'm trying really hard to prioritize everything to ensure that I get it all done in a good order.
Tell me what you've been up to lately!
What do you do when you have a hard time keeping up with your tasks and hobbies?